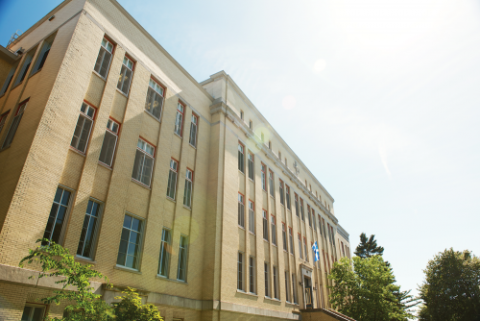 TOPMED, a non-profit organization, was created in 2010. It enjoys the status of a College Center for Technology Transfer (CCTT), and is thus part of the Trans-Tech network of 49 CCTTs and more than 1,000 experts. It is affiliated with Collège Mérici, one of only two institutions that offer the Orthopedic and Orthopedic Prosthetics Program in Quebec.
The young center was first known as CSTOP (Centre de solutions technologiques en orthèses et protheses / Center for Technical Orthotics and Prosthetics Solutions). 
During the initial three-year period, the center moved to new premises and met the grant eligibility criteria of several funding agencies, particularly the Natural Sciences and Engineering Research Council of Canada (NSERC). At the same time, CSTOP made several research project proposals to institutions and laboratories in the orthotic, prosthetic and special needs equipment industry, with many of these projects now completed. During this period, the center also received support from Canada Economic Development (CED) in the acquisition of new computer-aided design and manufacturing (CAD/CAM) equipment, a technology that is being increasingly used in the field.
In 2013, CSTOP went through a lengthy period of reflection, activity assessment and strategic planning, and its CCTT status was renewed by the Ministry of Higher Education, Research, Science and Technology.
In 2014, CSTOP became TOPMED. The new name indicates more clearly the center's nature: Technology Transfer (T), Orthotic and Prosthetic (OP) Techniques and Medical Equipment (MED).
In 2015, TOPMED welcomed a new General Manager, Mr. Claude Morin who has previously held several management positions, wich gives him extraordinary experience. With his vision for the Center's future, Mr. Morin breathes new life into TOPMED by leveraging his innate sense of business development and propelling TOPMED towards new goals.
Thanks to a grant from the Ministry of Education and Higher Education, TOPMED was able to expand its laboratory clinic with new equipment and new facilities that not only promote learning but also resulted in a clinical space similar to that of private clinics. Students enrolled in the Collège Mérici Orthopedic Prosthetics and Orthopedic Technology (TOPO) program use the laboratory to familiarize themselves with state-of-the-art equipment. This gives them a competitive advantage when they enter the labor market.
After several months of work, including several stages of consultation and writing, TOPMED produced its Strategic Plan 2018-2023. This allowed the renewal of its status as a College Center for Technology Transfer (CCTT) in orthotics, prosthetics and medical equipment for the next 5 years.
TOPMED assists organizations involved in health, adaptation, rehabilitation and mobility by developing, personalizing, optimizing and validating devices, equipment and technologies for vulnerable and athletic populations. 
TOPMED becomes the only CCTT Center dedicated to health.
The year 2019 is devoted to the preparation of major funding requests that will materialize in 2020. Several projects are taking shape with the confidence granted by its customers and partners.
In 2020, TOPMED receives confirmation of a grant of $ 2 million from the Natural Sciences and Engineering Research Council of Canada as part of the College and Community Innovation program. This grant allows the deployment of a large research project spread over the next 5 years. This project involving more than 15 industrial partners aims to provide personalized care for lower limb appliances for vulnerable and athletic clients.
In collaboration with the Mérici College, TOPMED is setting up a new structure whose mission is to help develop and promote intervention, training and research focused on psychosocial practices in special education: LabIDEÉS - Laboratory of Innovation and Development In Special Education. Four areas of work are privileged:
Partnership and community service

Educational innovation

Training and advisory role

Intervention and applied research
Moreover, TOPMED is making an additional expansion with laboratories in its image. Its total area is now 6,500 square feet, corresponding to 4.5 times the space it was originally created. An investment of more than a million and a half in technological equipment is made in collaboration with the Canada Foundation for Innovation and the Ministry of Economy and Innovation.
The year 2020 is also marked by the pandemic caused by COVID-19. From the start, the employees demonstrated exceptional organizational agility to ensure the continuation of operations and even to add a production component of medical equipment requested by partners and the health network. This action will have enabled TOPMED to obtain the Class 1 Medical Device Establishment License (MDEL) from Health Canada.
TOPMED receives a grant of $ 400,000 from the Economic Development Agency of Canada for the purchase of new equipment and software. This grant makes it possible to acquire:
A new 4-axis carver from the company Vorum that can mill positives in polyurethane blocks used for molding and can manufacture several pairs of plantar orthotics at a time

A plantar scanner from the company Vorum to digitize the foot for the manufacture of custom plantar orthotics

A Peel2 3D scanner which is used to make a faithful 3D reproduction of the human body from the company Creaform

The Raise 3D, a new 3D printer

Computer-aided design (CAD) software: Fitfoot 360, Rodin 4D - Cube and Polyworks Modeler

Anybody, a biomechanical simulation software

Computers and screens to renew the IT equipment of TOPMED
These purchases make TOPMED more efficient, versatile and creative. In this way, TOPMED will be able to better meet the needs of its customers as well as its partners.